Join didactic conference organised by Department of Chemistry, Faculty of Science, University of Ostrava.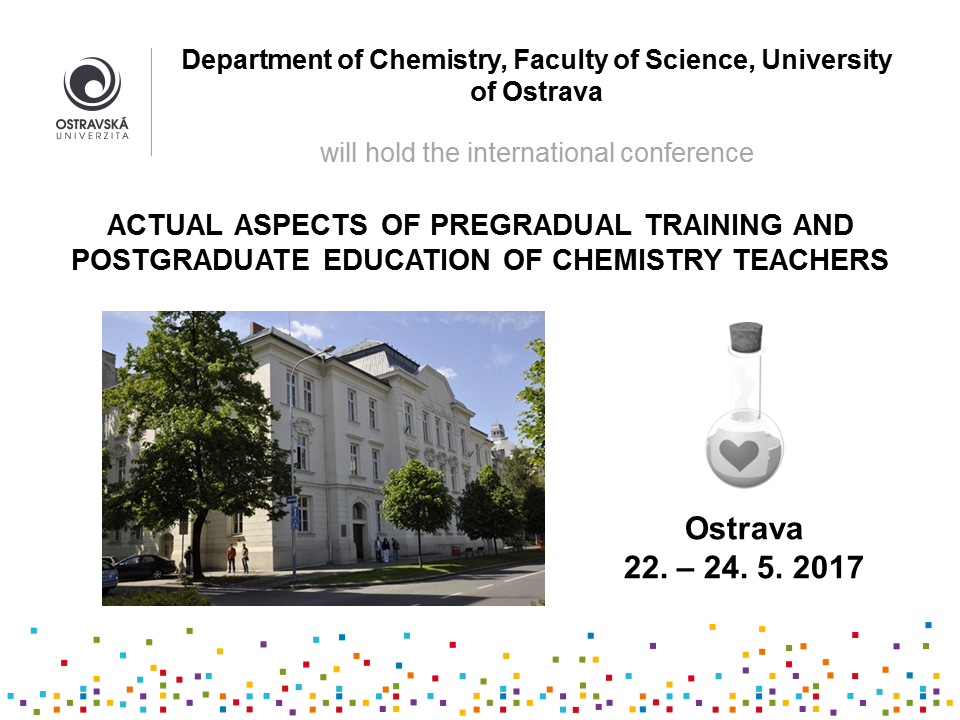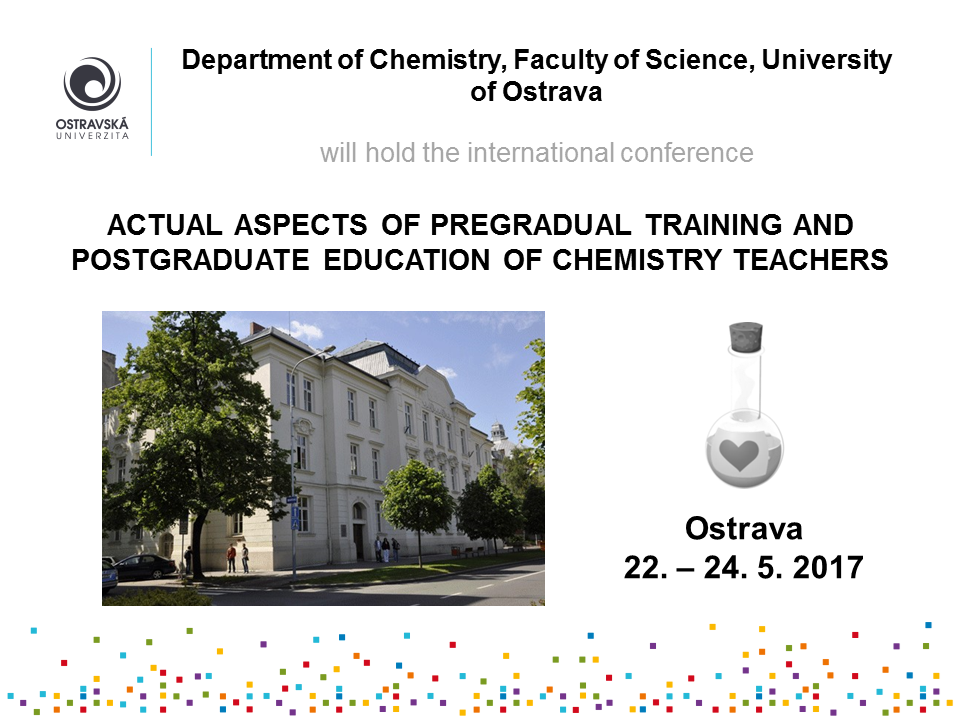 International scientific committee:
Chairperson:
Doc. PaedDr. Dana Kričfaluši, CSc.
Members:
Prof. PhDr. Martin Bílek, Ph.D.
Doc. Mgr. Hana Cídlová, Dr.
Prof. RNDr. Hana Čtrnáctová, CSc.
Doc. RNDr. Mária Ganajová, CSc.
Prof. PhDr. Ľubomír Held, CSc.
Doc. RNDr. Marta Klečková, CSc.
Doc. RNDr. Jarmila Kmeťová, Ph.D.
Dr hab. Małgorzata Nodzyńska
Prof. RNDr. Miroslav Prokša, Ph.D.
Doc. RNDr. Marie Solárová, Ph.D.
Organizing committee:
Chairperson:
Mgr. Jana Prášilová, Ph.D.
Members:
Mgr. Kateřina Trčková, Ph.D.
Mgr. Martin Mucha, Ph.D.
Mgr. Petra Bulavová, Ph.D.
Ing. Beáta Kapošváry
Jarmila Schmidtová
Kristýna Orságová
Petra Blokešová
Tereza Veverková
Alexa Maxianová
Jana Lukášová
Venue
The conference will be held at the Faculty of Science, University of Ostrava (30. dubna 22, Moravská Ostrava, block A and C).
Aim of conference
The conference will focus on current problems in teachers' education with an emphasis on training chemistry teachers in the context of the development of chemical, pedagogical and social sciences and the company's requirements.
Topics
Objects, content and organization of undergraduate training of chemistry teachers
New trends in chemistry education and in other science subjects
Postgraduate education of chemistry teachers
Pedagogical research in didactics of chemistry
General program of conference
Monday 22. 5. 2017
9:00 – 13:00
registration of participants
13:00 – 13:30
opening of the conference
13:30 – 19:00
plenary talk, meetings in sections
Tuesday 23. 5. 2017
9:00 – 13:00
meetings in sections
14:00 – 17:00
excursion
19:00
evening party
Wednesday 24. 5. 2017
9:00 – 13:00
meetings in sections, closing of conference
Registration and application form
Registration form and abstract of paper (max. 10 lines in a language of contribution) send using an electronic form until 28. 2. 2017 (link here).
Through the following links it is necessary to register payers: academics, students and chemistry teachers. After the registration the specific symbol will be send on your email address.
Technical facilities
PC with internet connection, data projector, video, flipchart and sound system will be available. The additional requirements please consult with the organizers of the conference.
Presentation of contributions
Only oral (max. 15 min) contributions or posters will be accepted. The organisers reserve right to accept or reject contributions, to sort out contributions into the sections and to choice plenary lectures (max. 30 min).
Proceedings of conference
Contributions will be published in an original language in the reviewed proceedings on CD. Contributions can be published in Czech, Slovak, Polish, and English. Contributions in the range of max. 8 pages will be accepted for publishing in the proceedings. The instructions for authors will be specified in the 2nd circular and on web side of conference. Contributions, please, email on address did2017ostrava@gmail.com until 7. 5. 2017.
Conference fee and payments
The fee 2600 CZK for academics, 1 800 CZK for students and chemistry teachers, covers organizational costs related to providing the conference, publishing the proceedings, refreshment during the conference. The conference fee doesn't include accommodation and meals. Each participant is responsible for booking their own accommodation. One fee includes one presentation.
The conference fee must be paid by April 14 2017.
Accommodation and boarding
Accommodation and meals provided by the participants themselves. Look at the list with selected recommended accommodation in Ostrava. Near the Faculty of Science are affordable dining options.
CONTACT ADRESS
Mgr. Jana Prášilová, Ph.D.
katedra chemie
Přírodovědecká fakulta
30. dubna 22
701 03 Ostrava
e-mail: jana.prasilova@osu.cz
tel.: 0042-553 462 198
e-mail for receiving contributions: did2017ostrava@gmail.com

Important dates

| | |
| --- | --- |
| Registration and abstract | 28. 2. 2017 |
| Payment of conference fee | 14. 4. 2017 |
| Sending papers | 7. 5. 2017 |