Between June 3 and August 2, 2019, student Jakub Vytisk attended a practical traineeship at the University of Porto in Portugal.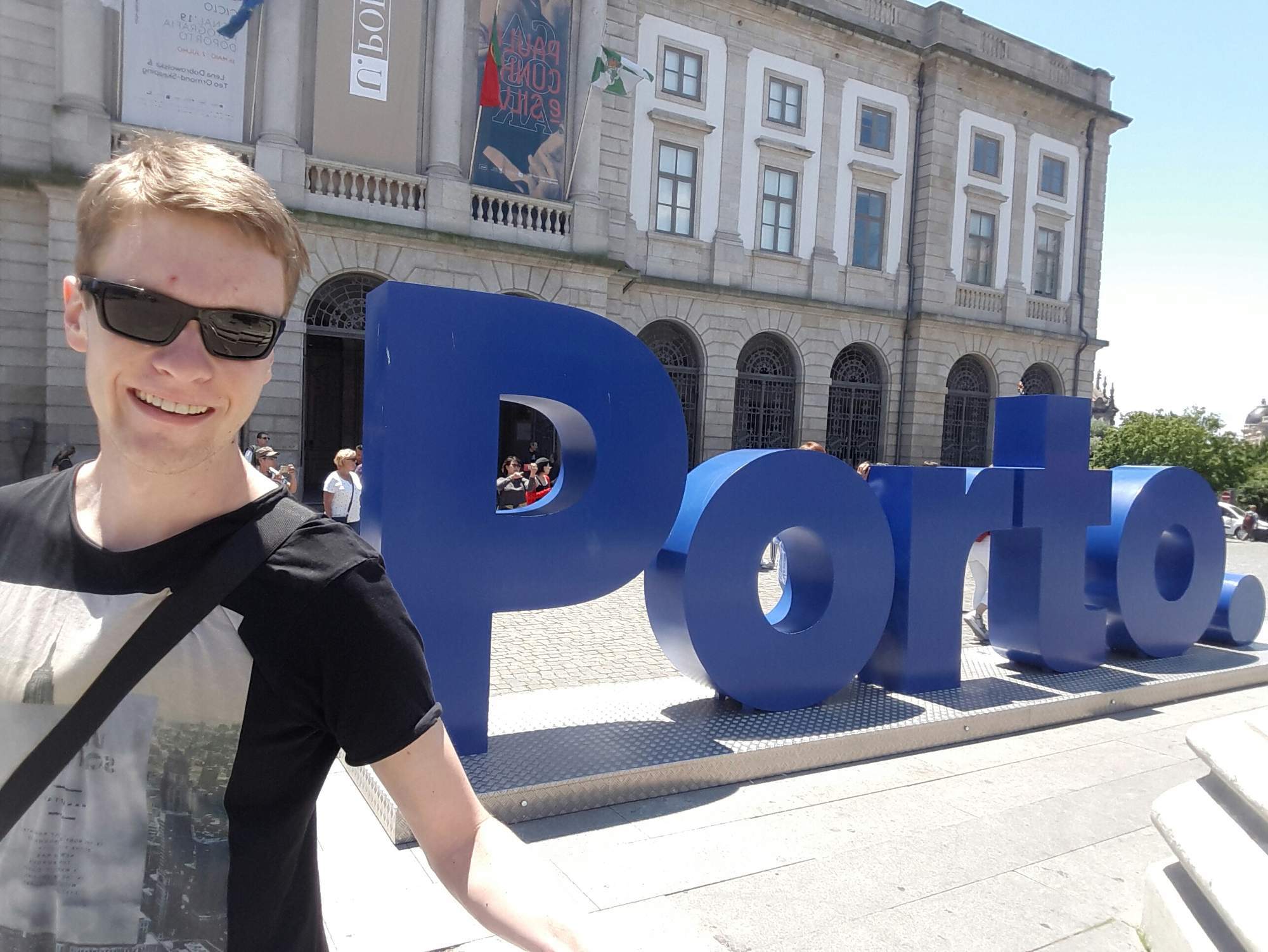 From the 3rd June to the 2nd August I attended a traineeship at the University of Porto in Portugal. After my flight from Prague to Porto I accommodated in the house, which I shared with other students from Portugal, Italy, Greece, France, Belgium, Spain, Romania, Slovenia, Croatia, Kosovo and Mosambique. During whole two months I spent with them a lot of times and I received some information from their countries.
During a week I worked in the lab and I did a characterization of carbon xerogel monoliths, which I prepared at the University of Ostrava. For the characterization I used these methods: TPD, XPS, nitrogen sorption, pHpzc and elemental analysis. These methods were for me totally new, but my professor Salomé Soares in Porto explained me, how to work with equipments and how to work with received values. Other staff in labs helped me, when I looked for chemical glassware and with trips in Portugal.
For trips I used weekends. First of all, I wanted to know Porto, which is the second largest city in Portugal. After walking in the city centre, which means Aliados square, Clérigos tower, São Bento train station and Ribeira around the river Douro with the bridge Ponte de Dom Luís I, I visited the coast and the ocean. The weather wasn't so great, because temperatures were about 22 °C, but when it was exceptionally 32 °C, I swam in the ocean.
On the 23rd June was in Porto a famous celebration – São João Festival. This event is connected with plastic hammers and hitting to heads with them. At midnight you can see an amazing firework near the river Douro.
Porto is very famous for his traditional meals and drink, too. Francesinha is delicious sandwich, which is made from bread, ham, sausages and cheese with special sauce from tomatoes and beer with french fries. In Porto you must try their wine and Pastel de nata, too.
At the end of June I visited the capital city in Portugal. In Lisabon I saw the Praça do Comércio square and special lift Elevador da Santa Justa in the city center. The best part was Belém. There you can see Belem Tower, Monument to the Discoveries and Jerónimos Monastery.
At the beginning of July Mgr. Gabriela Hotová, Ph.D. and Mgr. Tomáš Zelenka, Ph.D. arrived to Porto. I presented them my results. We traveled together to Aveiro and Guimarães.
This traineeship through Erasmus + brought me new friends and new experiences. I would like to thank doc. RNDr. Václav Slovák, Ph.D. for providing information about traineeships abroad, Mgr. Markéta Kováčíková for administrative matters, Mgr. Tomáš Zelenka, Ph.D. for assistance in measurement evaluation, professor Salomé Soares for conducting of traineeship in Portugal and especially Mgr. Gabriela Hotová, Ph.D. for organizing my traineeship with University of Porto, consultation of measurement results and providing information about the life in Porto before my leaving.